Two Michigan State University students celebrate national honors for being named Marshall and Mitchell Scholars, respectively.
Brent Strong, a Senior Honors College with a major in Physiology in the College of Natural Science, is MSU's 20th Marshall Scholar.
Maysa Sitar, a senior Honors College social scientist, is only the fifth Spartan to be named a Mitchell Fellow.
Both scholarships are very competitive and offer recipients postgraduate studies. This year, 46 Marshall Fellows were selected from 1,180 applicants from 35 institutions across the country. The George J. Mitchell Scholarship is awarded to 12 students nationwide by the US-Ireland Alliance and funds a year of study in Ireland.
"Maysa is more than deserved for not only doing excellence in all of her classes, but also doing independent research and spending thousands of hours on community service, campus leadership and high-level roles that require the highest level of professionalism," said she John Waller, director of the Social Science Scholars Program at the College of Social Science.
Maysa Sitar, Mitchell Scholar
A native of Newberry, Michigan, Sitar plans to study conflict transformation and social justice at Queen's University in Belfast. She is a political scientist and the current Vice President for Government Affairs of the MSU Student Government. Most recently, she helped double-register voters in the dorm and created impartial voting guides for students. She has also worked in Rep. Elissa Slotkin's Washington, DC office and is a member of a task force dealing with voting challenges for college-age students. Sitar came to MSU as a STARR scholarship holder – an award specifically for high school graduates from Michigan Upper Peninsula and Wyoming – and was a finalist for the US Rhodes Scholarship.
The Marshall Commission supports up to 50 of the most outstanding students in the country who wish to study at a university in the UK. Marshall Scholarships pay tuition fees, personal travel, book allowances, and a living grant for up to three years of study.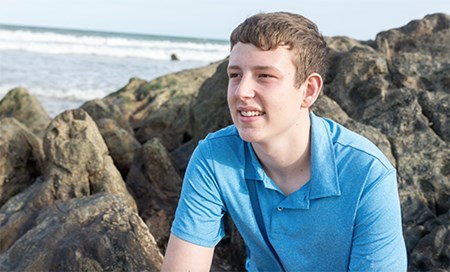 Brent Strong, Marshall Scholar
Hailing from Saline, Michigan, the Strong and Dean's Research Scholar plans to earn a Masters of Science in Statistics from the University of Glasgow in his first year and a Masters of Science in Population Health Sciences from the University of Edinburgh in his second year. Strong recognition of his research alongside mentor Mat Reeves, Professor in the Department of Epidemiology and Biostatistics, as a driving force in discovering a passion for improving care and outcomes for stroke patients.
"It is a great honor to be named Marshall Scholar and I am thrilled to continue my studies in Epidemiology and Acute Stroke in Scotland for two years," said Strong.