Hancock block print artist Kim Cunningham etches her love of NH into a brand new book | A&E
Since she first came to the Monadnock area a few decades ago, visual artist Kim Cunningham has been enchanted by the natural beauty of this corner of the world.
Her upcoming book "Block, Paper, Chisel: Prints from the Monadnock Region of New Hampshire" documents her relationship with the communities and nature around the mountain.
"This book is kind of a visual reminder of my time here, and it's also a love letter to the area," said Cunningham, who lives in Hancock. "I appreciate it more and more."
Hancock artist Kim Cunningham's vivid, detailed woodcut prints have been featured across New England, and her work is widely featured on calendars, posters and logos in the Monadnock area.

IMAGES WITH THE FRIENDLY PERMISSION OF Bauhan-Verlag

Cunningham has worked as a graphic designer and illustrator for companies such as Brookstone, Eastern Mountain Sports, and Cobblestone Magazine. Today she is a full-time graphic artist and sculptor and has exhibited across New England. Her work often appears on calendars, posters and logos in the Monadnock region.
Cunningham first came to the area in the late 1970s and she hasn't looked back.
"There are so many great natural areas, but there is (also) a really great cultural scene," she said. "When we got here, we didn't realize how many artists, musicians and writers there were."
Cunningham's book is a comprehensive exploration of the block print medium that encompasses everything from images of familiar landscapes and local wildlife to more abstract collages celebrating the beauty of trees.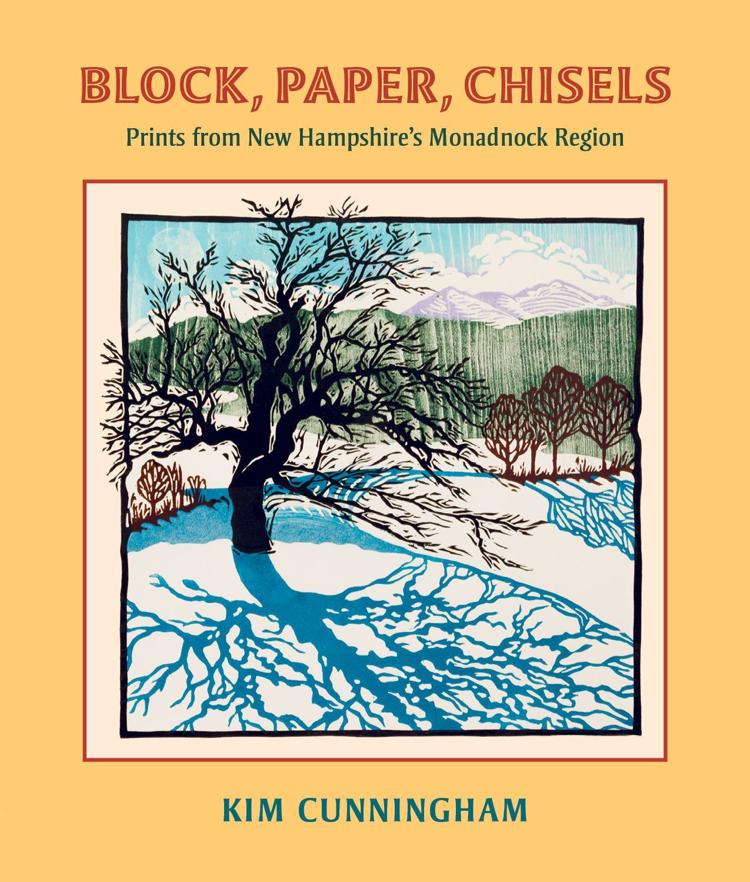 Wood Block Prints Hancock artist Kim Cunningham has worked on the colorful book Block, Paper, Chisel: Prints from the Monadnock Region of New Hampshire for the past 40 years.

IMAGES WITH THE FRIENDLY PERMISSION OF Bauhan-Verlag

Background information on her influences and techniques is included, and her haiku poems accompany two print series. The book contains four different series: Monadnock, Wild Things, Owls and Trees.
In the Monadnock section, Cunningham travels the region throwing images of Mount Monadnock from different locations for different perspectives.
"The shape of the mountain changes so much," she said.
Cunningham studied etching in college and when she lived alone in Boston. She wanted to get back into the medium, but had no access to a press. At this point, she started working on her block prints.
The process is "incredibly low tech and you don't need a lot of space to do it," she said.
With small chisels, Cunningham translates her drawing onto pieces of wood and then transfers the etched image onto canvas with paint.
"Block printing gives you a very special look," said Cunningham. "It's just a medium that looks like nothing else."
She enjoys carving the picture and likes knowing that she will always have the building block.
"You have the pad forever and you can print it in a number of different ways," she said.
Cunningham said she never got the hang of blurring lines that painters of other genres achieve.
"I need my lines," she said of her intricate, detailed work.
Previous books that contain her art include "The American Walk Book" by Jean Craighead George (Dutton), "Rubber Stamp Carving" by Luann Udell (Lark), and "Absolutely Wild" with her father Dennis Webster (Godine).